Los últimos artículos visitados
Vought Kingfisher
Price:
9,20 EUR


Ref:

AIRF-02021


Manufacturer:

Airfix


Family:

Aircraft 1/72


Approximate weight:

0.21 kg - 0.46 lb


Description:

Vought Kingfisher
Conceived as a catapult launched observation floatplane, the Vought Kingfisher was a compact single engine monoplane, with one large single float and two smaller floats under-wing to act as stabilisers. Operated in the scout and air sea rescue role, the Kingfisher proved to be a vital and excellent tool in locating and rescuing downed airmen and marooned sailors from the inhospitable waters of the Pacific Ocean.
The Kingfisher was the US Navy's first catapult-launched monoplane observation floatplane aircraft. It came in both float and land-based configurations, and served as observer, anti-submarine, and rescue aircraft. A total of 1,519 Kingfisher were built.
Relacionados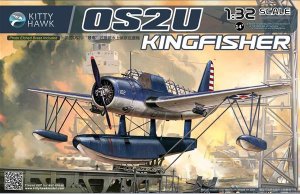 OS2U Kingfisher
OS2U Kingfisher
Caracteristicas
A escala 1/32 de la marca Kitti Hawk Model para montar y pintar.
...[+]