Los últimos artículos visitados
Typ G4 (1935 production), WWII German Pe
Price:
29,75 EUR


Ref:

ICMM-24011


Manufacturer:

ICM


Family:

AFV 1/24


Approximate weight:

0.24 kg - 0.52 lb


Description:

Typ G4 (1935 production), WWII German Personnel Car
Characteristics

From Icm brand to 1/24 scale for mounting and painting.
The three-axle off-road passenger car G4 (W31) designed by Daimler-Benz in 1934. This car had a 8 cylinder engine of 100 (later 110) hp and 6 passenger seats. The car was intended for German Army but it appeared very expansive and too complicated for mass production. There were produced only 72 G4 up to 1939. They were mainly used by the highest State and Military authorities of Germany. Highly detailed chassis, engine and interior. 4 figures and 4 version decal sheet are included.

Relacionados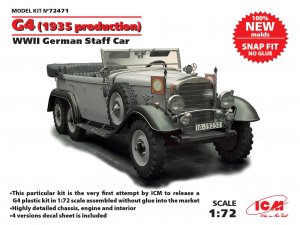 ECOMODELISMO, S.L.
Calle La Rioja 4 trasera
Tel.: +34 948 259 951
31008 PAMPLONA (Navarra) Spain
| Contact with ECOMODELISMO.com | On Us | Policy of Privacy | It registrese | Sitio web desarrolado por Accesible, s.l. |