Los últimos artículos visitados
Leopard I Aleman
Price:
18,81 EUR


Ref:

TAMI-35064


Manufacturer:

Tamiya


Family:

AFV 1/35


Approximate weight:

0.43 kg - 0.95 lb


Description:

West German Leopard Medium Tank
The Leopard (or Leopard 1) is a tank designed and produced in Germany that first entered service in 1965. It was used as the main battle tank by over a dozen countries worldwide.
It is a fairly conventional tank, armed with a German-built version of the British L7 105-mm gun. The Leopard is known for its good cross-country speed.
The design started as a collaborative project between Germany and France in the 1950s,[1] but the partnership ended and the final design was ordered by the Bundeswehr, production starting in 1965. In total 6,485 Leopard tanks have been built, of which 4,744 were battle tanks and 1741 were utility and anti-aircraft variants, not including eighty prototypes and pre-series vehicles.
Since 1990, the Leopard 1 has gradually been relegated to secondary roles in most armies. In the German Army, the Leopard 1 MBTs have been phased out in 2003 while Leopard 1 derived vehicles are still widely used. The Leopard 2 MBTs have taken over the MBT role.




Recomendamos con este art�culo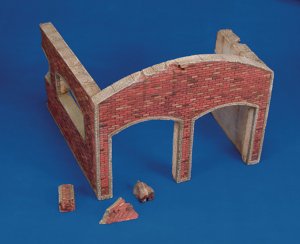 Relacionados
ECOMODELISMO, S.L.
Calle La Rioja 4 trasera
Tel.: +34 948 259 951
31008 PAMPLONA (Navarra) Spain
| Contact with ECOMODELISMO.com | On Us | Policy of Privacy | It registrese | Sitio web desarrolado por Accesible, s.l. |