Los últimos artículos visitados
Jagdpanther G1 Late Production
Price:
58,50 EUR


Ref:

DRAG-6393


Manufacturer:

Dragon


Family:

AFV 1/35


Approximate weight:

0.23 kg - 0.51 lb


Description:

Jagdpanther G1 Late Production
History
A heavy tank destroyer design based on the 88 mm Pak 43 gun and the Panther tank chassis was ordered in late 1942 as design SdKfz 173. Production started in early 1944; at the same time Hitler specified the Jagdpanther ("hunting panther") name.

To accommodate the heavier-calibre gun, much as on previous Jagdpanzer-style unturreted tank destroyers, the sides of the Panther tank were extended up into an integral, turretless fixed casemate as part of the main hull itself to provide a roomy interior. Both the Panther Ausf. G and Jagdpanther had side armor of increased elevation to enhance this effect even further and to harmonize production.

It was armed with an anti-tank version of the same long-barreled 88 mm gun as the Tiger II and a 7.92 mm MG-34 machine gun in the front glacis plate for local defence. The Jagdpanther had a good power-to-weight ratio and a powerful main gun, which enabled it to destroy any type of Allied tank. Because it was based on the existing Panther chassis, the vehicle did not suffer too many mechanical problems. It was manned by a crew of 5, a driver, radio-operator, commander, gunner, and a loader.
Two variants can be distinguished, one with a welded steel band around the main gun mantlet and the other with a bolted-on band. The versions with the bolted-on ring were equipped with Pak 43/4 gun. Early Jagdpanthers had a monobloc gun barrel and two vision openings for the driver, whereas late versions had only one.

Recomendamos con este art�culo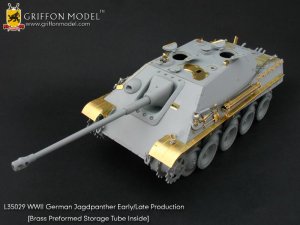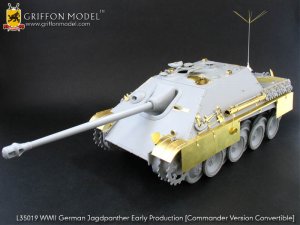 Jagdpanther Early Production
Jagdpanther Early Production (Command Version Convertible) 7 planchas de fotograbado, Tubo de metal, base de la antena en resina y material ext
...[+]
Relacionados
ECOMODELISMO, S.L.
Calle La Rioja 4 trasera
Tel.: +34 948 259 951
31008 PAMPLONA (Navarra) Spain
| Contact with ECOMODELISMO.com | On Us | Policy of Privacy | It registrese | Sitio web desarrolado por Accesible, s.l. |