Los últimos artículos visitados
Germanic Knight XIII Century
Price:
28,75 EUR


Ref:

ROME-54101


Manufacturer:

Romeo Models


Family:

Medieval Knights 54 mm


Approximate weight:

0.21 kg - 0.46 lb


Description:

Germanic Knight XIII Century
Probably born in 1177, died before 1245) was a German Minnesänger, crusader and founder of a monastery.
He was the fourth son of Count Poppo VI of Hennenberg and his wife Sophie, of the Andechs family.
In 1197 Otto was present at the court of Henry VI, and took part in his Italian crusade. Later he went to the Holy Land and made his career in the Kingdom of Jerusalem. During this period the Kingdom gained prestige and wealth, and in 1208 he married Beatrix de Courtney, the daughter of the Seneschal Joscelin III of Edessa. In 1220 Otto sold his property to the Teutonic Order and returned permanently to Germany, where in the following years he was frequently present at the imperial court.
His sons, Otto and Heinrich, as well as his nephew Albert, joined the clergy, so the dynastic line of Otto was left without issue.
Together with his wife Otto founded in 1231 a Cistercian monastery in Frauenroth, where both are buried. Although the monastery was destroyed in the Thirty Years' War, their tomb is still preserved there. He is depicted in a miniature of the famous "Manesse" code, a collection of 137 Gothic miniatures in which poets are idealized in courtly or chivalrous activities.

Painting suggestions:
The warrior equipment is typical of the first half of the 13th century.: chain mail, padded leg protection, surcoat or coat-armour, mantle (widely used throughout the Middle Ages) and leather gloves. He wears a helmet with the visor down in an integrated structure, the back plate protecting the neck, while the wooden, leather-clad shield is triangular.
In addition to the classic thirteenth century sword, he has a special broadsword with a single-edge blade to be gripped with both hands, depicted in miniatures of the Maciejoski Bibile, a manuscript dating from around 1250.

The figure can be painted with the heraldry of any knight of the period, or as a member of a knightly order: Templars, Teutonic Knights, Hospitaller etc.etc.
Relacionados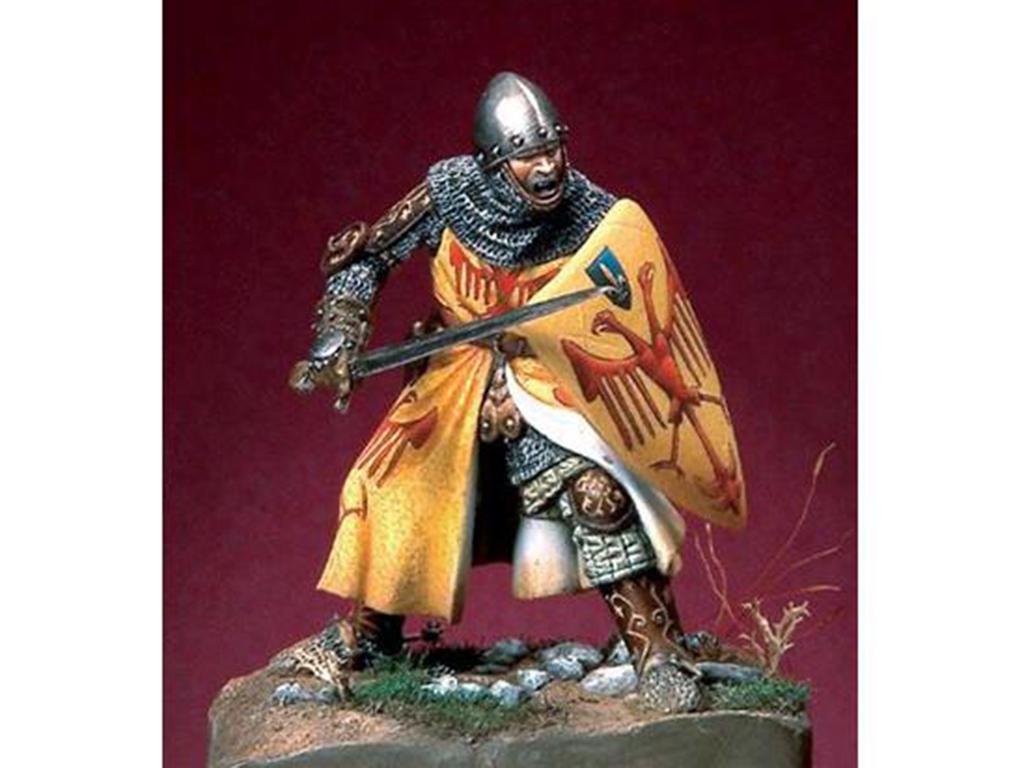 ECOMODELISMO, S.L.
Calle La Rioja 4 trasera
Tel.: +34 948 259 951
31008 PAMPLONA (Navarra) Spain
| Contact with ECOMODELISMO.com | On Us | Policy of Privacy | It registrese | Sitio web desarrolado por Accesible, s.l. |