Los últimos artículos visitados
German Navy Aircraft Carrier DKM Graf Ze
Price:
128,75 EUR


Ref:

TRUM-05627


Manufacturer:

Trumpeter


Family:

Boats 1/350


Approximate weight:

1.39 kg - 3.06 lb


Description:

German Navy Aircraft Carrier DKM Graf Zeppelin
Zeppelin class aircraft carrier Graf Zeppelin is a Kriegsmarine have built during World War II aircraft carrier, but also the history of Germany's only aircraft carrier into the water over a displacement of about 33,000 tons.December 28, 1936 in Kiel, Deutsche Werke keel was laid. Since the Kriegsmarine and Air Force aircraft ownership dispute between the construction plans continue to be postponed, and the subsequent outbreak of World War II, making the aircraft in May 1940 was terminated construction project is completed 85%, primarily due to Hitler's decision to the Navy's large part of the funds for the development of submarines, this class aircraft carrier ultimately failed to complete.
April 25, 1945 in order to avoid falling into the hands of the Soviets choice from the sink, picked up the Soviet Union after the war of the "Graf Zeppelin " sign hull, the way the Soviet Union hit a mine sank in tow. August 1947 the Soviet Union once again picked up again towed Leningrad, after careful study, as a target ship destroyed by the Soviet Navy.
Relacionados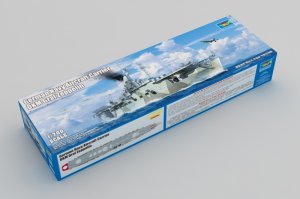 ECOMODELISMO, S.L.
Calle La Rioja 4 trasera
Tel.: +34 948 259 951
31008 PAMPLONA (Navarra) Spain
| Contact with ECOMODELISMO.com | On Us | Policy of Privacy | It registrese | Sitio web desarrolado por Accesible, s.l. |