Los últimos artículos visitados
F-16C Fighting Falcon
Price:
154,50 EUR


Ref:

TAMI-60315


Manufacturer:

Tamiya


Family:

Aircraft 1/32


Approximate weight:

0.65 kg - 1.43 lb


Description:

F-16C Fighting Falcon
Regarded as one of the world's leading jet fighters, the F-16 Fighting Falcon is currently employed by more than 20 countries, and has served in actual combat since the 1980's. The F-16CJ Block 50 variant is the newest F-16 currently being deployed to U.S. units. Major upgrades to the Block 50 included a more powerful turbo General Electric engine, AGM-88 HARM (High-Speed Anti-Radiation Missile) and targeting system. The F-16CJ is used for "Wild Weasel" SEAD (Suppression of Enemy Air Defense) missions, which include searching out and destroying radar and missile sites.

The F-16 Fighting Falcon model maintains the ease of assembly featured by all of the models in our 1/32 Scale Aircraft Series, and boasts the high level of detail and accuracy for which Tamiya is known around the world. This model has given our designers the opportunity to incorporate a number of modeling ideas and innovations that would not have been possible on a smaller 1/48 or 1/72 scale.
Recomendamos con este art�culo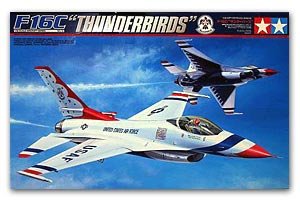 Relacionados
ECOMODELISMO, S.L.
Calle La Rioja 4 trasera
Tel.: +34 948 259 951
31008 PAMPLONA (Navarra) Spain
| Contact with ECOMODELISMO.com | On Us | Policy of Privacy | It registrese | Sitio web desarrolado por Accesible, s.l. |