Los últimos artículos visitados
Caballero templario - siglo XIII
Price:
30,30 EUR


Ref:

ROME-54041


Manufacturer:

Romeo Models


Family:

Medieval Knights 54 mm


Approximate weight:

0.20 kg - 0.45 lb


Description:

Knight Templar - XIII Century
The Templar Knights of the 13th Century wore the traditional garment of the Order, a simple white tunic with a red cross. The Order did not display (show off) personal emblems or motifs on their shields or garments and insisted that the Brother Knights, observed the monastic teachings and rigor of the Order, refraining from wearing brightly coloured belts or buckles made from precious metals. The Templar Knights' (monks) outward dress had to mirror their inward humble, uncontaminated spirituality, dedicating: their military lives to Christ. In contrast to the Monk Warriors, the secular knights of the 13th Century wore brightly coloured garments as a sign of their prestige and richness. Their garments were often decorated with rich embroidery and richly coloured heraldry of their family or political allegiance. The "young" knights would wear green garments, their cloaks of cloth lined in furs of squirrel or petit‑gris, alternating the skins in mosaic: patterns with the belly in light colour and the back in grey‑blue. Our knight with cloak, is armed in the style used in the middle of the XIII Century. It can be painted in the choice of the modeller: either as a Knight Templar, Crusader in the Holy Land or as a Noble Secular Knight from the Western European medieval times.
Relacionados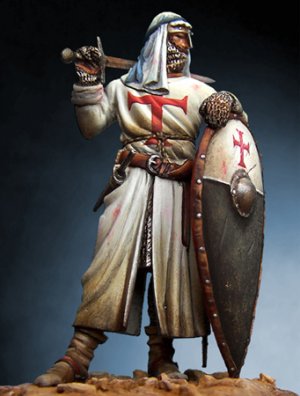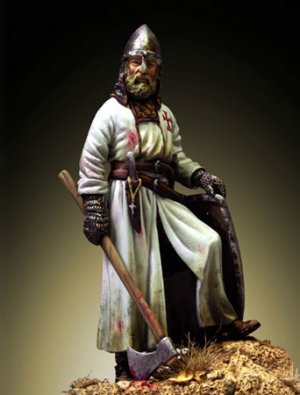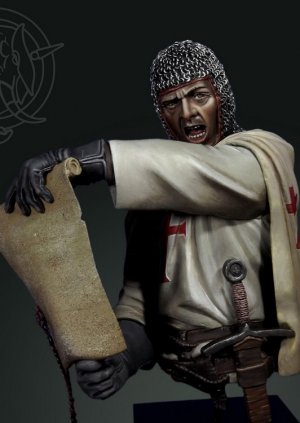 ECOMODELISMO, S.L.
Calle La Rioja 4 trasera
Tel.: +34 948 259 951
31008 PAMPLONA (Navarra) Spain
| Contact with ECOMODELISMO.com | On Us | Policy of Privacy | It registrese | Sitio web desarrolado por Accesible, s.l. |